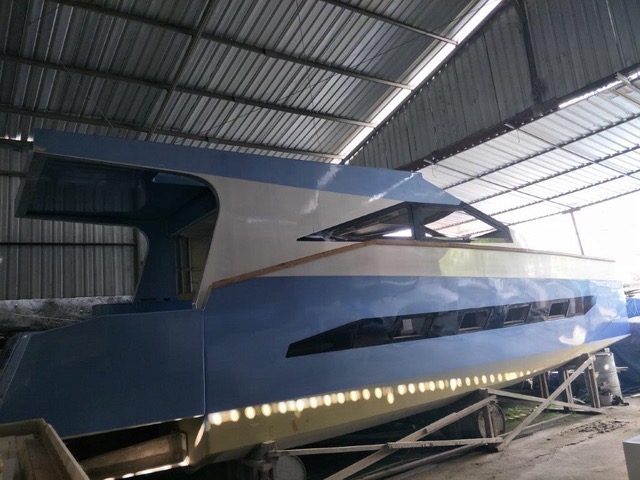 Seaside 13.2 m Power
catamarano a motore SEASIDE 13.2 ideale per famiglie e per charter : la gamma dei catamarani a motore comprende modelli 10 m Open e 12 m Open e 13.2 con FLY
che possono anche essere NATANTI
PROGETTAZIONE E DESIGN AVVENIRISTICI: UN HIGH TECH LUXURY YACHT
MOTORIZZAZIONE A SCELTA ANCHE IBRIDA E F.BORDO L
AMPIO FLY CON 10 POSTI A SEDERE, HARDTOP IN VTR, AMPIO PRENDISOLE DI PRUA PER 8 PASSEGGERI, POZZETTO DI POPPA CON DOPPIA SEDUTA AD U CON TAVOLI PER 20 OSPITI.
VERSO PRUA GRANDE ZONA LIVING, VISTA MARE CON DIVANI AD U PER CIRCA "20" OSPITI. ESTERNO VETRATA INGRESSO CON ACCESSO WC, INOLTRE IN SOTTOCOPERTA "4" CABINE MATRIMONIALI, 1 CABINA SINGOLA PER "9" OSPITI IN PERNOTTO E 2 WC. POSSIBILITA' DI ALTRI POSTI LETTO X 4 PAX SULLE DINETTE
COMPORTAMENTO ALLA FONDA: SI DISTINGUE PER L EVIDENTE STABILITA AL GALLEGGIAMENTO, COME UNA PIATTAFORMA, PRESENTA QUASI ASSENZA DI ROLLIO LATERALE E IN NAVIGAZIONE RIDOTTO BECCHEGGIO A PROVA DI MAL DI MARE, E OTTIMA TENUTA DI MARE, ANCHE CON ONDE FORMATE
STABILE, INAFFONDABILE, SPAZIOSO
CATALOGHI SU RICHIESTA
motor catamaran SEASIDE 13.2 ideal for families and charters: the range of motor catamarans includes 10 m Open and 12 m Open and 13.2 with FLY
FUTURISTIC PLANNING AND DESIGN: A HIGH TECH LUXURY YACHT ENGINE OF YOUR CHOICE ALSO HYBRID
LARGE FLYWHEEL WITH 10 SEATS, GRP HARDTOP, LARGE BOW SUNDECK FOR 8 PASSENGERS, AFT COCKPIT WITH DOUBLE U-SHAPED SEATS WITH TABLES FOR 20 GUESTS.
FORWARD LARGE LIVING AREA, SEA VIEW WITH U-SHAPED SOFAS FOR ABOUT "20" GUESTS.
EXTERIOR GLAZED ENTRANCE WITH TOILET ACCESS, ALSO BELOW DECK "4" DOUBLE CABINS, 1 SINGLE CABIN FOR "9" OVERNIGHT GUESTS AND 2 WC.
POSSIBILITY OF OTHER BEDS X 4 PAX ON THE DINETTE BEHAVIOR AT THE BOTTOM
IT IS DISTINGUISHED FOR ITS EVIDENT FLOATING STABILITY, LIKE A PLATFORM, IT HAS ALMOST ABSENCE OF LATERAL ROLL AND REDUCED PITCHING IN NAVIGATION TO PROOF SEASICKNESS, AND EXCELLENT SEA-KEEPING, EVEN WITH FORMING WAVES STABLE
UNSINKABLE, SPACIOUS CATALOGS ON REQUEST